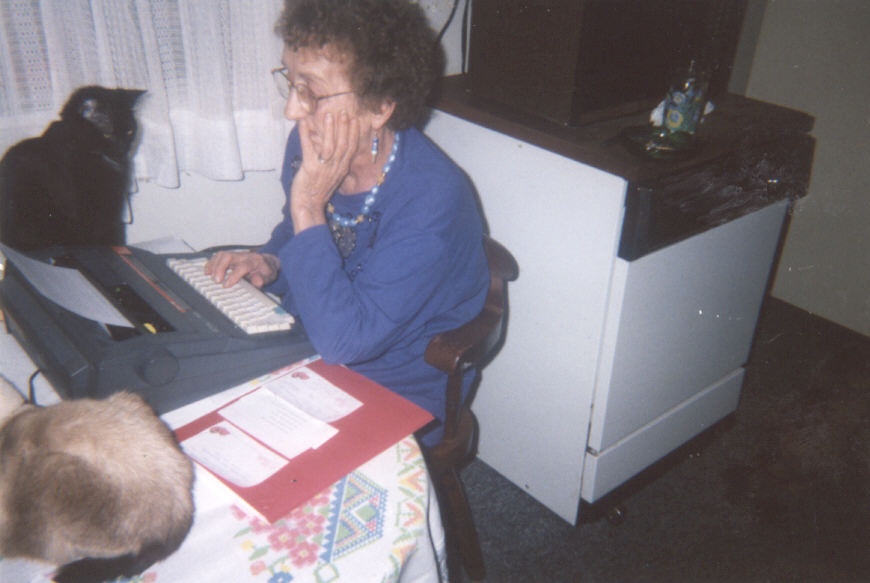 ---
Aunt Frieda's Tribute link is on the left.
This page has looked the same for a long time. However, there have been many changes made to this site, virtually indescernable to any visitors to this site. The main menu bar links at the top of the page are nearly all active (exceptions: Edith Mae, Louis Walker, Louie). Soon they will all be active. I would welcome your contributions to this page -- no matter how distant your relationship. This is a family site. Join in!
I'm going to change the pace: Here's a story I found on my computer that I wrote seven years ago. It happed a few years before that: I called it
Reunion Moon
About ?? years ago our extended family began meeting for family reunions. There were a lot of us as my mother's family consisted of seven sisters, one brother all with children and grandchildren, and all living in different parts of the U.S. We chose a resort in the Missouri area because that is where the family originated prior to their move to Ohio in 1944 and everyone would have to travel to get there. Coming from such distance, we started off with four-day weekends to make it worth our travel, but soon, after getting to know one another, we extended it to 5-7 days. Shared meals, forays into town, cemetery visiting, library trips, shopping, fishing are pretty much mix and match depending on interest and availability but we make sure that the whole group comes together for one evening.
On that evening we begin with what we really do best -- cook and eat. The formal part follows. drumroll ... then begins the best part. The Talent Show. We don't display traditional talents...for the most part. I suppose it could be said that our talents lie in our creativity and our appreciation of one another. For example: one family member tells a joke, one reads a letter, a three-year old recites her ABCs, another reads a poem written by someone else too shy to perform. At one reunion my mom presented parts of her lifestory to the others, which I typed (my talent). To be honest, we do have a few good musicians, but the rest of us have to dig deep (i.e. typing).
Let me give you another example of digging deep. At about the second reunion, my cousin's husband, George, decided his talent would be a drama of sorts. At a pause between "acts", sitting in a chair in the audience, he started beating on his pantslegs hollering ants, ants, ants ... as if he had just discovered he was sitting on an anthill of fire ants and was being attacked. He danced around and hooted, the whole time slapping his legs to beat the attacking army off as he ran toward the stage (front porch of the large cabin). When he got up in front of us, he unbuckled his belt to start to take off his jeans (still trying to loose the little tormentors). Here's where everything sort of starts to turn into a slow-motion event for us onlookers. He turned around with his backside toward us and pulled his pants down with his bare behind showing. There followed one or two seconds of shocked silence. (Most of us had only ever heard about being "mooned" and now it had become an inter-generational event.) He turned around to look at us, to see why there was no hysterical laughter about the same time that the hand that was holding down his trousers over his hip quickly moved up and found nothing but bare skin. He frantically grabbed for his "more public" red and white checked undershorts that he had INTENDED to expose -- which were covered with pictures of big black picnic ants. For a few minutes it was kind of hard to know who needed the most comfort -- George or the rest of us. And then as we began to recover, waves of laughter washed over us. And another family story was born.
There are a few more parts to this story ... One, it was all captured on videotape. Well, sort of captured on videotape. But God was good to George! Just as he was pulling down his trousers, someone stepped in front of the camera. The view of the moon is left to the memory of those who were actually there and George doesn't have to face himself (so to speak) every time the video is shown, but we still get to enjoy the shocked silence .... and hear the burst of laughter follow.
We still see the picnic ants shorts every reunion, but now it is as they fly from the flag pole that marks their cabin ... and that fabric pattern has become the symbol for the non-blood part of the family (some families say inlaws, some say outlaws -- we do "blood"/"no blood")
I must admit what a good sport George turned out to be. He has proclaimed, and we have gratefully accepted that his talent is doing all the barbecuing for the main event every year. .. forget the drama.
---
Contact me: IfMamaSang@gmail.com or fill in the form below.





---
I love this story. There are so many other stories in her book. I should really swap out this story with another .. but not yet! Watch this space. (of course)
The story below (The Swing) is an excerpt from an autobiography, "If Mama Sang," written by my mother, Jane Hackworth, about her mother and published by LuLu Press. She wrote the book about her experiences growing up, hoping that her children and grandchildren would be able to get to know more about the family they came from. There are a few teaser photos in the slideshow at the left.
This site will eventually display some of the 100s of grand-children and great-grand-children she wrote for in addition to photos (below) of the family she wrote about. Incidentally, the photos from top to bottom span 7 generations. today
THE SWING
I liked to swing. The red and blue swings on our school play yard were so pretty and they didn't pinch my butt like the old board seated one that hung from the limb of our walnut tree.
As soon as the recess bell rang, I ran faster than a rabbit towards the swings, latched on to one and went sailing into the air, day-dreaming, wishing, thinking.
How do you like to go up in a swing,
Up in the air so blue?
Oh, I do think it the pleasantest thing
Ever a child can do!

Up in the air and over the wall
Til I can see so wide,
Rivers and trees and cattle and all
over the countryside.

Til I look down on the garden green
Down on the roof so brown -
Up in the air I go flying again,
Up in the air and down!

by Robert Louis Stevenson (A Child's Garden of Verses)
A big girl wanted my swing. She sounded mad when she said, "gimme that swing."
"No!, it's mine, I got here first," I said to the big, ugly girl.
"Gimme the swing, tomorrow I'll bring you a big sack of candy" the girl promised.
She wasn't so mean, afterall. I gave her the swing and started drooling and licking my lips. On my way home from school, half the night, while walking to school the next day I could taste the candy. Maybe I'd even give Edith a bite. I sure hoped she'd bring a Hershey bar or a Baby Ruth but peppermint or a bunch of jaw breakers would be o.k. I was so hungry for candy...
I didn't see the big girl during morning recess and she didn't come out to play at noon time. That was alright. I'd get my sack of candy when the afternoon bell rang. She promised.
The next day I looked and looked for her. Edith said she played a trick. I said she was a lyin' coon, a dirty rat, if I found her I just might spit on her and run. Well, I wouldn't worry, the booger man might catch her and poke her with his hot pitch fork for being a liar.
NEXT YEAR
I am bigger and a lot older but I still like the colored swings and I can swing higher than almost anybody, even without a push. I'm a fast runner but one day I was poking along and the swings were gone when I got to the playground. Oh! That little girl in the blue swing might give me her swing if I promised her candy. She gave me the swing and all through recess I went up in the air, up in the air so blue. I didn't feel good, my stomach hurt, my head ached, I was sad way down inside. Swinging was no fun. I couldn't bring the little girl candy, I didn't have a dime, I didn't have a nickel.
God was real mad at me. Mama would be mad at me for being mean to somebody littler than me, she might make me find my own switch and switch the tar out of me for lying. Mama always said "liars are worse than thieves. Lock a liar up and he'll still lie." Well, I just wouldn't tell her and I sure hoped the booger man didn't catch me and burn me. When I was rich, I'd find the little girl and give her lots and lots of candy and hope she wasn't mad at me and didn't want to spit on me. [ If Mama Sang, pp 94-95]
---
The photos below were discovered on websites of relatives I never knew existed .. descendants of the other people in the photographs with MY relatives. The first photo is of my Great Grandfather family. My Grandfather (tall, 13 year old on the left) is with his brothers Oscar (former Missouri State Representative) and Harry (killed in 1913) and two sisters, Alpha Belle and Sallie. There are three children waiting to be born to John (seated) and Sarah Hackworth (standing right), Tom, Frank and Nellie (died in infancy). Frank gave me all of the photos.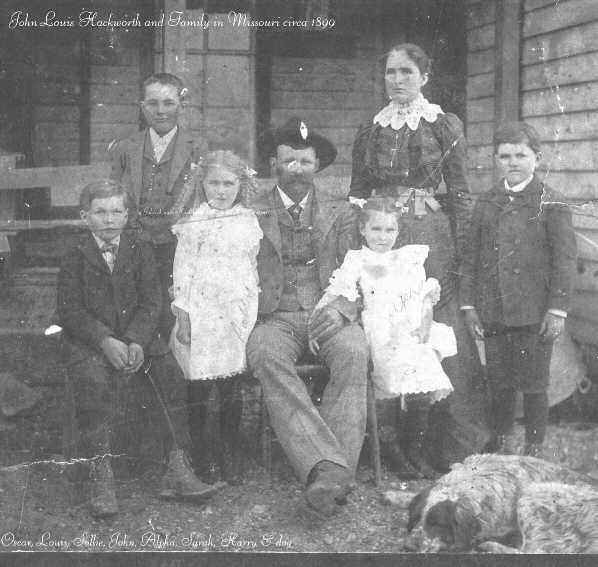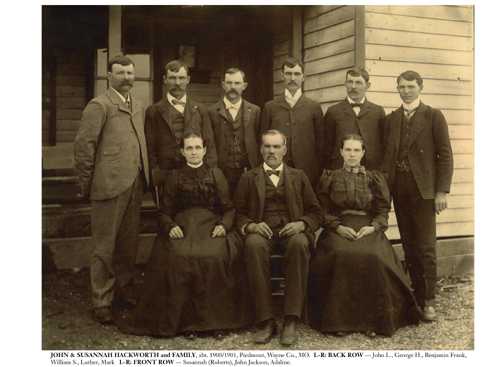 This page is a panoama of the location of the house that belonged to Uncle Ross. It is an amazing photograph.